« December 2005 | Main | February 2006 »
Echidnas Ahead
Echidnas Ahead
Originally uploaded by brunom.
I took this picture in the Barossa Valley, in South Australia at the start of January. I will try to put up more of the signs that I find on the roads in Australia ... :)
January 26, 2006 | Permalink | Comments (0) | TrackBack
Probe 'to confirm CIA abductions'
Between this and the NSA spying on everyone, when will people realise that they (US, UK, etc) are turning the world into one of those brutal police state (or world) that they fill their mouth talking about "how terrible those regimes are".
Probe 'to confirm CIA abductions': "A European investigator is expected to confirm on Tuesday that the CIA carried out illegal abductions."
(Via BBC News.)
January 24, 2006 in Current Affairs | Permalink | Comments (0) | TrackBack
HOWTO make a noble fruit helmet for your cat
HOWTO make a noble fruit helmet for your cat: "Xeni Jardin: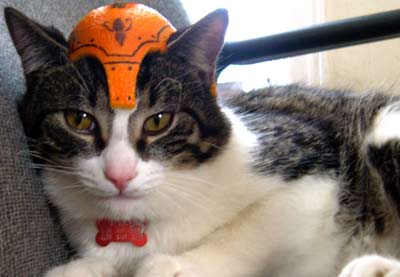 'The prototype Feline Protection and Enhancement System is ready for testing! The F.P.E.S. v0.0, known as 'The Zero', was produced in our top secret, Illinois facility just last week.''' Link to tutorial for construction of cat fruit helmets.
"
(Via Boing Boing.)
January 24, 2006 in Science | Permalink | Comments (1)
Fridge poetry
The following is absolutely fantastic! For those who remember, we used to have all those strange fragments of phrases in our fridge in Amsterdam. Our fridge now is very small in comparison but this idea (see below) would be very handy!
Australian digital artist Pierre Proske who is working with researchers at the Viktoria Institute in Sweden to develop intelligent fridge magnets that fix bad grammar and change the words to something they think is more appropriate.
(Via we make money not art.)
January 20, 2006 in Australia, Geek Stuff | Permalink | Comments (0)
Autonomous non-violent agents
Autonomous non-violent agents: "
A new project by La Fabricadecosasbonitas (The Factory of Pretty Things) has recently been awarded money as an 'incentive for further production' by Vida 8.0. The Spanish activists plan to take 20 robot-demonstrators to the G8 summit, to be held in the summer of 2007 in Germany.
Their ANA project was inspired by a news article published in early 2005 on the Pentagon's intention to send 'robot soldiers' to Iraq in March of that year.
The ANA or autonomous non-violent agent project satirizes about the terrible consequences of dehumanizing armed conflict and mechanically systematizing the solution of political disputes. Given the amount of cynicism we seem able to assume, robots can replace people in some of their tasks, including killing. They might even become the actors in the new millennium's protest movements.

The image above shows a first prototype. The superior part of the final robot could wear glasses equipped with camera, earings with microphones, clothes bearing protest messages and it would also carry posters with slogans. The inferior part is a robotic vehicle (inspired by Segway) equipped with sensors to avoid obstacles and police.
All materials are recycled.
Julio and Íñigo Fernández explained that the only difference for the manifestants is that 'they won't hold the posters in their own hands but they will hold it at a distance of one mile.'
"
(Via we make money not art.)
January 20, 2006 in Culture Jamming | Permalink | Comments (0)
Top 10 cutest kittens
You have to see this http://www2.b3ta.com/top-10-cutest-kittens/
January 14, 2006 | Permalink | Comments (0) | TrackBack